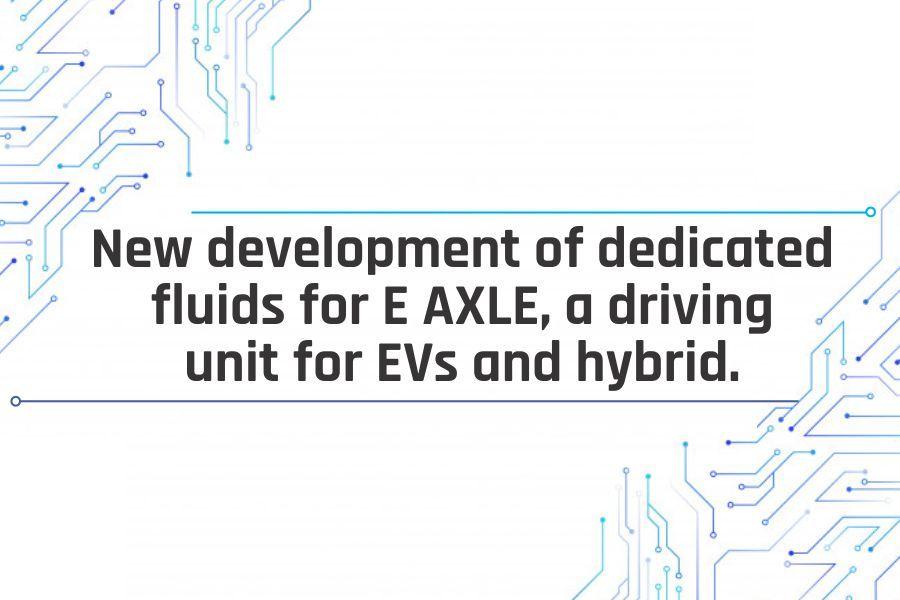 Idemitsu Kosan Co.,Ltd. (Headquarters: Chiyoda-ku, Tokyo; Representative Director and CEO: Shunichi Kito; hereinafter referred to as "Idemitsu") announces the development and distribution of the IDEMITSU E AXLE FLUID, a lineup of dedicated fluids that improve the performance of a critical driving unit called the E AXLE in electric vehicles (EVs) and hybrid cars (HEVs). The new product lineup consists of three types of fluids that support a range of E AXLE units to ultimately improve performance in reducer lubrication, clutch engagement, and motor cooling.
The E AXLE is essentially a driving unit that integrates a motor, an inverter, and a reducer. Drawing on past experiences and the technologies developed whilst formulating other transmission fluids such as MTF, ATF, and CVTF, Idemitsu developed state-of-the-art E AXLE fluids that feature excellent reducer lubrication, clutch performance, and motor cooling.
The E AXLE has mainly been adopted by automotive manufacturers in Europe and China. This is largely due to its applicability in EVs and its utility in enabling the hybridization of combustion engine vehicles (with minimal design changes). Advancements, like the E Axle unit, require a new and dedicated oil that is better optimized and calibrated than the conventional fluids designed for automatic transmissions.
The new E AXLE fluids will be introduced in more than 28 countries around the globe from Idemitsu's lubricant sales offices to some of the world's leading OEMs. Idemitsu also plans to to add these E AXLE fluids to its Idemitsu Brand Motor Oil product line-up.
[Newly developed E AXLE fluids (3 types)]
IDEMITSU E AXLE FLUID TYPE-A : Offers longer shudder prevention life and better clutch performance
IDEMITSU E AXLE FLUID TYPE-G : Offers super-low viscosity for excellent gear protection performance
IDEMITSU E AXLE FLUID TYPE-C : Offers reliable gear protection and motor cooling performance
Idemitsu aims to expand and enrich its business as a global supplier of cutting-edge lubrication solutions while continuing to serve the communities it operates in through its manufacturing and distribution systems.